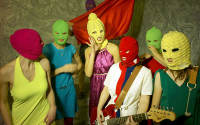 AMP Concerts, 516 Arts and Tricklock Company present
Pussy Riot Revolution
Time: 8:00pm Day: Monday Doors: 7:30pm Ages: All Ages
This Event Has Ended
Tickets are $17, $22 and $27 (plus additional service charges for online purchases). 
Tickets are available from the NHCC Box Office (in person and by phone - (505) 724-4771).
This event is part of the 2017 Revolutions International Theatre (and Music!) Festival, put on by our friends at Tricklock Company.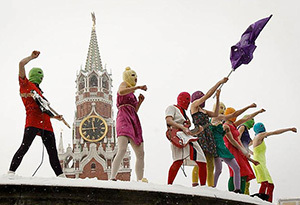 Please note - this is NOT a concert. Usually Pussy Riot does talks with a Q&A. In 2017, they are creating a performance piece called "Revolution," which they will perform before their usual talk/Q&A.
Pussy Riot is a Russian all-female protest art collective based in Moscow. Founded in March 2011, it had a variable membership of approximately 11 women. The group staged unauthorized provocative guerrilla punk rock performances in unusual public places, which were made into music videos and posted on the Internet. The collective's lyrical themes included feminism, LGBT rights, and opposition to Russian President Vladimir Putin, whom the group considered to be a dictator. These themes also encompassed Putin's links to the leadership of the Russian Orthodox Church.
They gained global notoriety when five members of the group staged a performance inside Moscow's Cathedral of Christ the Savior in 2012. The group's actions were regarded sacrilegious by the Orthodox clergy and eventually stopped by church security officials. The women said their protest was directed at the Orthodox Church leaders' support for Putin during his election campaign. On March, 2012, three of the group members, Nadezhda Tolokonnikova, Maria Alyokhina, and Yekaterina Samutsevich were arrested and charged with hooliganism. On August 17, 2012, the three members were convicted of "hooliganism motivated by religious hatred", and each was sentenced to two years' imprisonment. On October 10, following an appeal, Samutsevich was freed on probation and her sentence suspended. The sentences of the other two women were upheld.
The trial and sentence attracted considerable attention and criticism, particularly in the West. The case was adopted by human-rights groups, including Amnesty International, which designated the women as prisoners of conscience, and by a number of prominent entertainers. Having served 21 months, Tolokonnikova and Alyokhina were released on December 23, 2013, after the State Duma (Russian Parliament) approved an amnesty. After their release, Tolokonnikova and Alyokhina and several other members performed as Pussy Riot during the Winter Olympics in Sochi, where they were attacked with whips and pepper spray by Cossacks who were employed as security guards.
In 2014-2016 Pussy Riot (Alyokhina and Tolokonninkova with different line-ups), recorded and released several videos: "Putin Will Teach You To Love The Motherland", "I Can't Breathe"  (named for the last words that Eric Garner said as New York City Police held him to the ground in a chokehold), "Chaika", "Organs", "Make America Great Again". 
Alyokhina and Tolokonnikova appeared as speakers in many international festivals, conferences and other events in the USA, Canada, all Europe, Australia, Singapore. They represented Pussy Riot and Mediazona - very influential Russian human rights online media, founded by Alyokhina and Tolokonnikova in 2014. 
In 2016 Maria Alyokhina successfully debuted as a lead actress and co-playwritght of critically acclaimed "Burning Doors" - a play of Belarus Free Theatre, a story of three artists, who became political prisoners in Russia:  Maria Alyokhina, Petr Pavlensky and Oleg Sentsov. Performing in "Burning Doors", Alyokhina toured UK (for two months), Italy and Australia. US tour of "Burning Doors" should happen in 2017. 
Maria Alyokhina's extensive experience with "Burning Doors" helped her to start a new project - PUSSY RIOT THEATRE with "Revolution" - a play based on Alyokhina's book. This is a personal Maria Alyokhina's story of Pussy Riot, including two main actions - the Red Square and the Cathedral of The Christ The Savior, escape from police, arrest, jail and police investigation, trial, and prison camp. 
There are 4 people on stage. 2 women and 2 men. Maria Alyokhina herself, Kyril Kanstansinau - her main stage partner on "Burning Doors", and psycho-punk music duo AWOTT (Asian Women On The Telephone). The project is produced by Alexander Cheparukhin and directed by Yury Muravitsky - one of the leading Russian theatre directors, winner of "Golden Mask" annual Russian theatre award. 
Our two events in Albuquerque are previews before the official World Premiere of "Revolution" by the Pussy Riot Theatre at SXSW.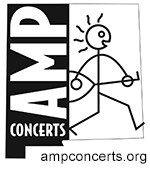 loading tweets
Coming Up