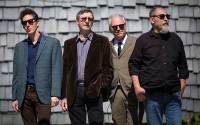 Levitt AMP Santa Fe Music Series
The Iguanas
Alto Estilo
Time: 7:00pm Day: Saturday Doors: 6:00pm Ages: All Ages Price: FREE
This Event Has Ended
Register for the event and we'll also send you updates if there are any schedule changes as well as info on future free Railyard programs and events around Santa Fe and Albuquerque.
Join your Santa Fe neighbors on the Railyard Plaza beside the landmark Water Tower for great FREE concerts all summer long.
Feel free to bring chairs to the concert.
Food and drink are available inside Second Street Brewery and Violet Crown Cinema.
Come down early to get a spot on the Second Street Brewery patio to enjoy a a cold beer with the music!
Violet Crown has patio drink & dining options too.
Ample parking is available in the underground garage just north of REI.
Download a map (JPG) showing all of the Railyard parking and transportation options.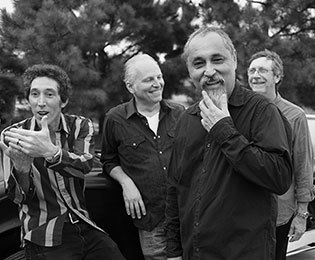 Based out of New Orleans for the past couple of decades—save for a short, Katrina-imposed exile in Austin—the members of the Iguanas [website | Amazon.com] have (collectively or individually) played or recorded with everyone from Charlie Rich, Alex Chilton, and Willie DeVille to Emmylou Harris, Allen Toussaint, and Pretty Lights. Their two-decade ride has taken them all over the map musically and geographically, yet the inescapable patina of their hometown infuses every note they play.
Through eight studio albums, countless tours and Jazz Fest appearances, and a flood that did its best to take their adopted city with it, it's a testament to the band's endurance that the same four guys that started playing in the early 1990s are still together. Joe Cabral is philosophical about the band's persistence in the face of challenges that would have felled—indeed, have felled—lesser bands. "First of all, this is all we know how to do; we're musicians. But more than that," he continues, "we respect the power of the band as an entity, and each individual in the band steps up to play his part. When it's good, that's really what it's all about."
Rod Hodges agrees. "I don't want to get all heady and mystical about this, but it's not really an outward reward we're looking for. We all enjoy playing music, we all get along, and finding a group of people who can say that after all this time is a rare thing."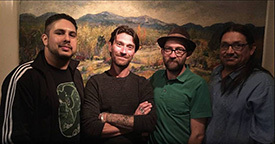 Created in the heart of the vibrant New Mexico music scene, Alto Estilo is a music ensemble that features a cross-breed of cultural and musical traditions. Musicians with diverse musical backgrounds honor the sounds of timeless American, Latin American, and Caribbean melodies and rhythms. At the same time, each member adds a distinct and more modern color to the mix, creating a powerful sound that is sure to captivate listeners and dancers alike.
The Levitt AMP Santa Fe Music Series is supported in part by the Mortimer & Mimi Levitt Foundation, a private foundation that empowers towns and cities across America to transform underused public spaces into thriving destinations through the power of free, live music. In 2017, more than 450 free Levitt concerts will take place in 22 towns and cities, all featuring a rich array of music genres and high caliber talent. Learn more at levitt.org.
---

loading tweets
Coming Up