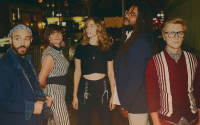 Lake Street Dive with Jake Shimabukuro
Taos Picnic in the Park Concert
With Special Guest Beat Root Revival
Time: 6:00pm Day: Friday Doors: 4:30pm Ages: All Ages
All Associated Events
4th of July Music Getaway Weekend! Both Taos shows for just $59!
July 4, 2019 4:15 pm
Lake Street Dive with Jake Shimabukuro
July 5, 2019 6:00 pm
The Mavericks & Los Lobos
July 6, 2019 6:00 pm
This Event Has Ended
Enjoy the full holiday weekend in Taos 
with concerts on July 4, 5 and 6 for only $59!  
Click here to purchase a weekend package.
Tickets for this show only cost $27 (including all service charges).
Kids under 16 FREE. 
Tickets are also available by phone through Hold My Ticket at 505-886-1251.
PICNICS WELCOME • CHAIRS & BLANKETS WELCOME • SHADE STRUCTURES AND UMBRELLAS AT BACK OF PARK ONLY • NO OUTSIDE ALCOHOLIC BEVERAGES (BAR ON SITE)  • FREE WATER REFILL STATIONS (Bring your own reusable bottles) • BEER, WINE & FOOD AVAILABLE • NO RE-ADMISSION ONCE IN THE PARK • SORRY, NO PETS!
VENDORS INCLUDE:
Chili Willies (Turkey Legs, Corn)
Espresso Yourself
Freshie's Juice
Jen's Diner (New Mexican)
JJ's Lunchbox (Frito Pies, Hot Dogs, Nachos)
Mystic Dance (Hot Dogs, Hamburgers, Fries, Nachos)
Rocky Mountain Chocolate CompanyTaos Cow Ice Cream
Tacos Gracias Madre (Tacos, Burritos, Tortas, Quesadillas)
Texas Hill Country (Sausages!)
Schedule:
4:30: Gates open
6:00-6:40: Beat Root Revival
7:00-8:00: Jake Shimabukuro
8:30-10:00 Lake Street Dive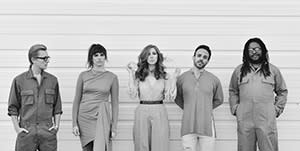 With their singular mix of soul and R&B and wholehearted rock & roll, Lake Street Dive make music that's timeless yet immediate, exuberant yet reflective. In the 15 years since their formation, the band's infectious vitality has only magnified in appeal, as proven with the release of their 2018 album Free Yourself Up. Along with earning lavish acclaim, the Boston-bred act's most recent full-length debuted in the top ten on the Billboard 200, and spent a virtually unprecedented seven-and-a-half months on the non-commercial radio charts.
Their most intimate and collaborative work to date, Free Yourself Up finds Lake Street Dive expanding their sound with more intricate textures, fuller-bodied arrangements, and stacks of sublime background harmonies. The album's title serves as both an exhortation to listeners and a statement of purpose for the band, its songs unfolding with a joyful swagger even when channeling anxiety over the state of the world. "This album is based in the realities in our time, which have inevitably become part of everyone's daily life," notes Kearney. "It's something you think about and obsess over—and write songs about. Free Yourself Up is about empowering yourself, emboldening yourself, no matter what's going wrong."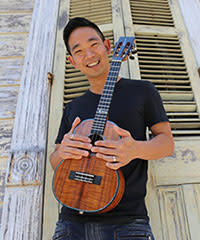 Jake Shimabukuro's wholly unique approach to the ukulele started early. As a youngster growing up in Honolulu, Hawaii, Shimabukuro started playing the instrument at the age of four, learning the basics from his mother, Carol, and then developing his craft further by studying the likes of musical masters such as Eddie Kamae, Ohta-San and Peter Moon. As he matured, Shimabukuro also found inspiration from guitar players, drummers, pianists, and singers. Even athletes helped fuel the intensity of his artistic fire.
Shimabukuro's records have topped the Billboard World Music Charts on numerous occasions, and as a live performer he has become one of the hottest tickets around. He's played with world-renowned orchestras and at prestigious venues such as the Hollywood Bowl, Lincoln Center and the Sydney Opera House, and has dazzled audiences at music festivals including Bonnaroo, SXSW, the Playboy Jazz Festival and Fuji Rock Festival. He even performed for that rarest of audiences: Her Majesty Queen Elizabeth II. Not too shabby for a humble young man from Hawaii and his trusty ukulele.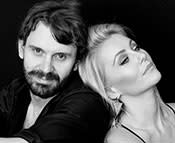 Beat Root Revival is a multi-instrumentalist roots duo, combining elements of folk, blues, country and rock to create a melodic sound, made up of powerhouse harmonic vocalists Andrea Magee and Ben Jones.
Originally from England and Ireland, Ben Jones and Andrea Magee came to the USA like their ancestors before them, looking for a new life and to share their music far and wide. With just a guitar, a Bodhran and a hunger in their harmonies and songs, Austin, Texas became their adopted home and they have developed an ever-growing fan base gigging regularly while writing prolifically.
---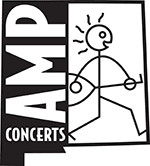 loading tweets
Coming Up