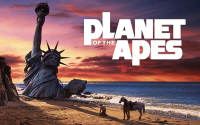 Planet of the Apes (1968)
Santa Fe Interplanetary Festival Movie Night: presented by The Santa Fe Institute
Time: 8:00pm Day: Friday Doors: 7:00pm Ages: All Ages
This Event Has Ended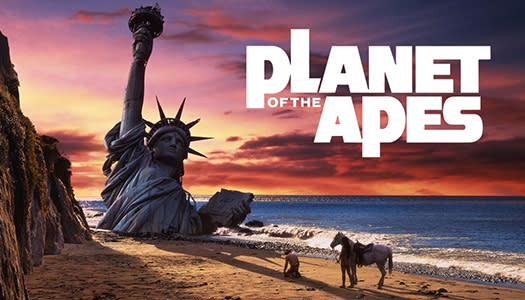 Kick off your Interplanetary Festival weekend with the 1968 SciFi classic presented by The Santa Fe Institute.  Interplanetary Fest- June 14-16: Changing the world one planet at a time. Get all the details on this amazing weekend https://interplanetaryfest.org/
The Santa Fe Railyard movie series takes place on the beautiful Railyard Park Performance Lawn in the heart of the Railyard Park, located at the intersection of Paseo De Peralta and Cerrillos Rd. Directions and parking info are on the Railyard web site. (You can also download a map [JPG] showing all of the Railyard parking and transportation options.)
Chairs and blankets are welcome. No umbrellas, please.
Picnics are welcome but NO ALCOHOL is allowed in City of Santa Fe Parks.
Food trucks and Freshie Freeze Ice Cream will be on-site. Popcorn too!
Well behaved, leashed dogs are OK, but it usually works better to leave your canine companions at home.
Bike to the Railyard this summer. We are encouraging safe bicycling to the Railyard Series using the Acequia Trail and St. Francis Underpass.
Register for the event and we'll send you updates if there are any schedule changes as well as info on future free Railyard programs and events around Santa Fe and Albuquerque.
The original 1968 movie! Charlton Heston is George Taylor, one of several astronauts on a long, long space mission whose spaceship crash-lands on a remote planet, seemingly devoid of intelligent life. Soon the astronaut learns that this planet is ruled by a race of talking, thinking, reasoning apes who hold court over a complex, multilayered civilization. In this topsy-turvy society, the human beings are grunting, inarticulate primates, penned-up like animals. When ape leader Dr. Zaius (Maurice Evans) discovers that the captive Taylor has the power of speech, he reacts in horror and insists that the astronaut be killed. But sympathetic ape scientists Cornelius (Roddy McDowell) and Dr. Zira (Kim Hunter) risk their lives to protect Taylor—and to discover the secret of their planet's history that Dr. Zaius and his minions guard so jealously.
---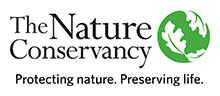 loading tweets
Coming Up