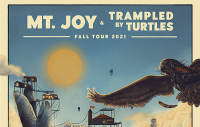 Mt. Joy & Trampled By Turtles
Fall Tour 2021
Time: 7:00pm Day: Sunday Doors: 5:00pm Ages: 21+ (Under 21 allowed with parent or guardian)
This Event Has Ended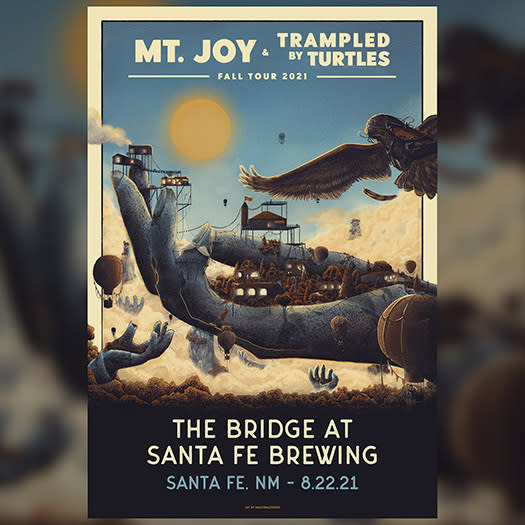 Santa Fe Music Week is a citywide celebration of live music from August 22-30, sponsored by New Mexico Tourism and Santa Fe Brewing. Get the complete schedule at ampconcerts.org or SantaFe.org/musicweek.

SHOW LOCATION
This show was relocated from HIPICO to The Bridge at Santa Fe Brewing Company.  The Bridge patio has been home to many of our favorite concerts over the years, plus you can get enjoy beer from Santa Fe Brewing Company during the show - always a nice bonus!  All tickets to the original show will automatically work at The Bridge.

TICKETS
General Admission Tier Two are $49 (including all service charges). General Admission Tier One have been sold already. 
THIS IS A STANDING ROOM ONLY SHOW.
Tickets are also available by phone through Hold My Ticket at 505-886-1251.
VIP Upgrades are available. Package 1 costs $169 (including all service charges); Package 2 costs $141 (including all service charges).
Package 1:
One GA ticket
VIP Meet & Greet with Mt. Joy
Preshow Meet & Greet with Mt. Joy
Preshow performance featuring 2-3 songs outside of setlist
Preshow Q&A with Mt. Joy
One individual photo with Mt. Joy
One Exclusive VIP item
Priority entry into the venue
One Mt. Joy VIP laminate
Package 2:
One GA ticket
VIP Preshow Acoustic Session with Mt. Joy
Preshow performance featuring 2-3 songs outside of setlist
Preshow Q&A with Mt. Joy
One Exclusive VIP item
Priority entry into the venue
One Mt. Joy VIP laminate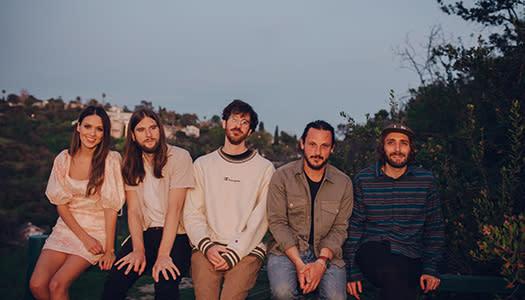 Mt. Joy started off as a rekindling of shared musical ambitions between Philadelphia high school friends Matt Quinn (vocals, guitar) and Sam Cooper (guitar). Reunited in Los Angeles thanks to the ebbs and flows of adult life, the pair met multi-instrumentalist Michael Byrnes through a Craigslist ad. They named themselves Mt. Joy as an ode to a mountain in Valley Forge National Park near Sam's childhood home.
Mt. Joy's swift rise is the stuff of childhood daydreams. The unexpected streaming success of debut single "Astrovan" thrust the band into the itinerant musician's lifestyle: performances at big name festivals like Bonnaroo and Lollapalooza, press notices in Rolling Stone (who deemed them "your new folk-rock heroes"), and dates touring with the likes of The Shins, Whitney, The Head and The Heart, and Neko Case. They signed with Dualtone Records, and their self-titled debut album Mt. Joy was "a major breakthrough" (Billboard), earning the band over 2 million monthly Spotify listeners. Single "Silver Lining" hit #1 on the AAA Radio Charts, with "Jenny Jenkins" following it up by reaching #5. 
Rearrange Us, their second album for Dualtone Records (an Entertainment One Company) and their first working with producer Tucker Martine (My Morning Jacket, The Decemberists, Modest Mouse) showcases the young band's growing ambition and sonic experimentation.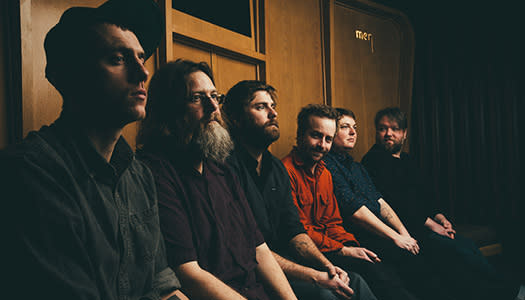 Trampled by Turtles are from Duluth, Minnesota, where frontman Dave Simonett initially formed the group as a side project in 2003. At the time, Simonett had lost most of his music gear, thanks to a group of enterprising car thieves who'd ransacked his vehicle while he played a show with his previous band. Left with nothing more than an acoustic guitar, he began piecing together a new band, this time taking inspiration from bluegrass, folk, and other genres that didn't rely on amplification. Simonett hadn't played any bluegrass music before, and he filled his lineup with other newcomers to the genre, including fiddler Ryan Young (who'd previously played drums in a speed metal act) and bassist Tim Saxhaug. Along with mandolinist Erik Berry and banjo player Dave Carroll, the group began carving out a fast, frenetic sound that owed as much to rock & roll as bluegrass.
Trampled by Turtles released their first record, Songs from a Ghost Town, in 2004. In a genre steeped in tradition, the album stood out for its contemporary sound, essentially bridging the gap between the bandmates' background in rock music and their new acoustic leanings. Blue Sky and the Devil (2005) and Trouble (2007) explored a similar sound, but it wasn't until 2008 and the band's fourth release, Duluth, that Trampled by Turtles received recognition by the bluegrass community. Duluth peaked at number eight on the Billboard bluegrass chart and paved the way for a number of festival appearances. When Palomino arrived in 2010, it was met with an even greater response, debuting at the top of the bluegrass chart and remaining in the Top Ten for more than a year. Two years later, their crossover appeal landed them at number 32 on the Billboard 200 pop charts upon the release of their sixth album, Stars and Satellites. The official concert album, Live at First Avenue, followed in 2013, recorded at Minnesota's most famous venue. A year later, the band returned with the darker-toned Wild Animals, which bettered its studio predecessor on the album charts, reaching number 29. Trampled's latest album is Life Is Good on the Open Road. TBT returns to the road in 2021 co-headlining tours with Mt Joy, Caamp and Wilco.
---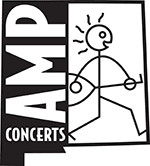 loading tweets
Coming Up