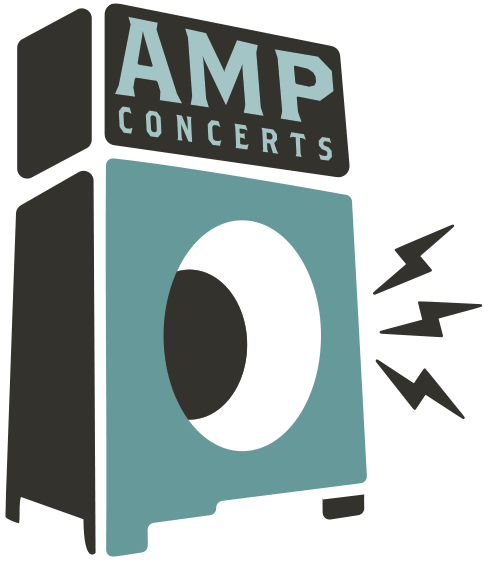 Search
AMP Concert offers innovative and inspiring arts programming throughout New Mexico. A portion of all AMP ticket sales goes to fund free community concerts, workshops, school programs & artist residencies.
AMP Radio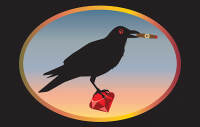 Professor Joe T. West's Psychedelic Folk and Bluegrass Festival
One Day of Music & Love
Time: 2:00pm Day: Saturday Doors: 1:00pm Ages: 21+ (Under 21 allowed with parent or guardian)
This Event Has Ended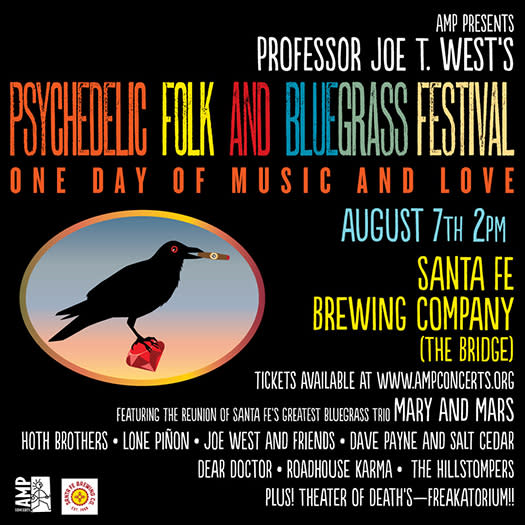 Tickets cost $27 in advance, $30 day of show (including all service charges). They are also available by phone through Hold My Ticket at 505-886-1251.
CHAIRS AN BLANKETS WELCOME. BEER AND FOOD VENDORS ON SITE. 
Event Schedule:

2 PM (outdoor stage): Dave Payne and Salt Cedar
3 PM (sidestage): Lone Pinon
4 PM (outdoor): Joe West and Friends
5 PM (sidestage): Roadhouse Karma
6 PM (outdoor): Hoth Brothers
7 PM (outdoor): The Hillstompers
8 PM (sidestage): Dear Doctor
9 PM (outdoor): Mary and Mars
Integrating his love of the theatrical and his passion for the alternative side of folk music, "Professor" Joe T. West presents a day-long festival which promises to be entertaining to all walks of life. Not only will folks be able to dance at the long awaited reunion of Santa Fe's greatest bluegrass trio Mary & Mars, but they will be able to cast their eyes upon THE LIVING HEAD: "Kept alive by the wonders of science, and he still won't shut up!!"  
Professor West has always had an eye for the characters, the marginalized. He hopes that this festival celebrates the bizarre and the unexpected in all of us.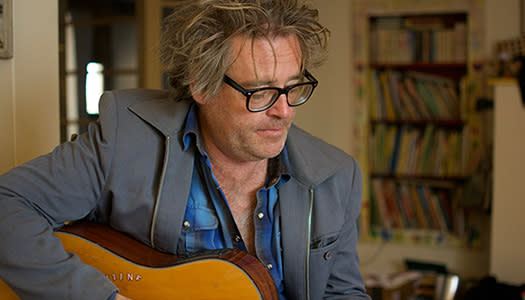 As well as being one of Santa Fe's most beloved songwriters, Joe West is also a local impresario, producing theatrical events around his hometown of Santa Fe and throughout the state of New Mexico. 
But it is his music that has found a greater audience around the globe.
Quirky, offbeat and melodic, his award-winning "theatrical folk music" is a singular mix of country and rock, which he has been recording and releasing on cassettes, CDs and vinyl records since the mid-eighties. He has toured extensively throughout the States and Europe, opening and sharing the stage with the likes of Peter Rowan, The Violent Femmes, Arlo & Sara Lee Guthrie, Mojo Nixon, and James McMurtry. 
Over the last few years Joe has created a rock opera, produced music for film and television, originated a conceptual radio show, created a film festival, and founded a theater company that performs his dark horror-comedies with original live music.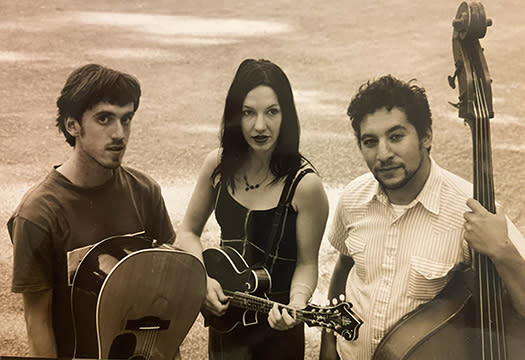 Mary & Mars staged a modern Bluegrass revolution in the unlikely town of Santa Fe. In the early 2000s, the hard-driving trio toured throughout the Western States and played festivals around the nation for just a couple years before heading in separate creative directions. In their short tenure, they shared the stage with such heavy hitters as Leftover Salmon, Railroad Earth and Yonder Mountain String Band. After Mary & Mars, mandolinist Sharon Gilchrist toured and recorded with bluegrass legends Peter Rowan and Tony Rice, all-star band Uncle Earl, and continues to teach and play with countless other bluegrass legends. Guitarist Ben Wright (D Numbers, Meow Wolf) and Josh Martin (bass) went on to form Grateful Dead tribute band Detroit Lightning and both have been ubiquitous in the Santa Fe music scene for two decades. The Mary & Mars song "One Less Fiesta" continues to receive local airplay and many New Mexico fans fondly remember the band's wild Friday night residency at The Cowgirl. The band is happy to reunite for a one-time reunion at Professor Joe T. West's Psychedelic Bluegrass Festival!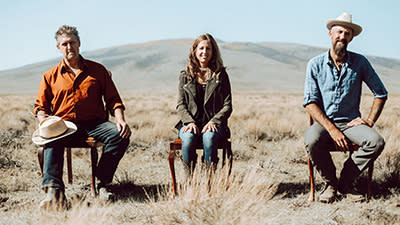 Boris McCutcheon and Bard Edrington V began "Workin' and Dreamin'" in the winter of 2017 while pruning fruit trees together. Music was the constant conversation that played to the rhythm of saws raking and pruners clipping in the apple orchards near the Chimayo sanctuary or the old plazas of Santa Fe.
Both artists had solo careers and were working on their own albums. Yet, musicians talk music, on the ground or atop a ladder in a tree canopy. And, from amidst this manual labour under the dry desert sun, this album began to emerge. Finally, on Feb. 15, 2019, Bill Palmer set up his portable studio at Bard's house. After three colossal days, the new HOTH Brothers material was recorded. The wild, loose and homemade percussion of Greg Williams and the instinctive brilliance of Sarah Ferrell on upright bass and vocals brought it to a level otherwise unreached by just the duo.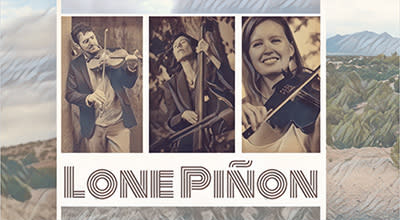 Lone Piñon is a New Mexican string band, or "orquesta típica," whose music celebrates the integrity of their region's cultural roots. With fiddles, upright bass, accordions, mandolin, guitars, and bilingual vocals, they play a wide spectrum of the traditional music that is at home in New Mexico. The group's active repertoire includes early conjunto duets, contemporary New Mexican rancheras, New Mexican swing, Hispanic Texan fiddle styles, Tohono O'odham fiddle tunes from Arizona, huapangos from the Mexican Huasteca region, and several styles of music from Michoacán: son calentano and son planeco from the southern lowlands and son abajeño from the P'urepecha highlands. In the past seven years Lone Piñon has played extensively throughout the Southwest and the US and recorded four studio albums: Trio Nuevomexicano (2016), Días Felices (2017), Dále Vuelo (2019), and Nuevas Acequias, Río Viejo: Traditional Music of Northern New Mexico (2020).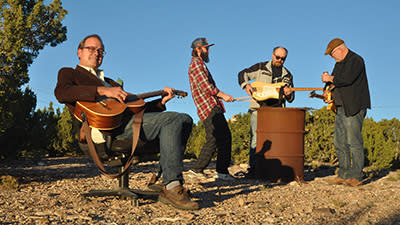 Dave Payne & Salt Cedar play honky-tonk, rock & roll—and psychedelic folk music too! Payne is an Albuquerque-based songwriter (formerly of the Saltine Ramblers) who assembled great friends to help present his original songs: Cory Van Minefee on electric bass, Dave Devlin on pedal steel and electric guitar and guest David Holtkamp on drums.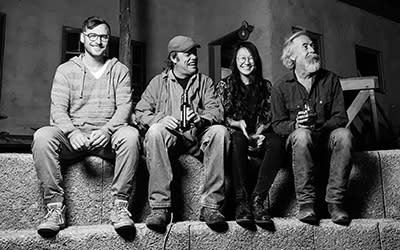 Dear Doctor is a four-piece band from Madrid, New Mexico that plays an eclectic mix of covers and originals. Dear Doctor knows how to serve up the musical medicine!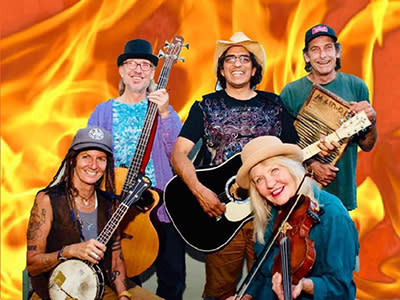 Roadhouse Karma presents a eclectic mix of Americana and originals. Influences include Dylan, Lenard Cohen, Devil Makes Three, John Prine and traditional folk, country and rock songs with a twist. Formed out of a love for fun music and good friends, Roadhouse Karma features Dan Alejandro on guitar and vocals, Linda Dunhill-Hasselbeck on violin and mandolin, Shelly Johnson on banjolele, guitar and vocals, Scott Switzer on percussion and vocals, and Vance Holmes on Bass.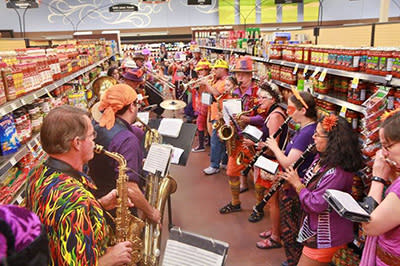 The Hill Stompers are an award-winning jazzy street band formed in Los Alamos in October 2000. These musicians and dancers are colorful, creative, and just a little bit crazy. They bring energy, sparkle, and fun to community events, parades, fundraisers, bars, and private parties. 
---