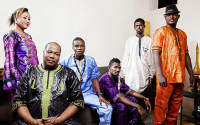 Tal National - Canceled
Time: 7:30pm Day: Saturday Doors: 6:30pm Ages: 21+ without parent or guardian
This Event Has Ended
Do to a strange glitch on their visas, Tal National was not able to enter the US and their US tour has been cancelled. 
Tickets are $15 in advance, $20 day of show (including all service charges). Tickets are also available through Hold My Ticket (112 2nd St SW), 505-886-1251, Monday to Friday 9 AM - 6 PM, Sat & Sun 11 AM - 6 PM.
There are a limited number of reserved two-top tables available at $25 a seat. This is the only seating available in the club.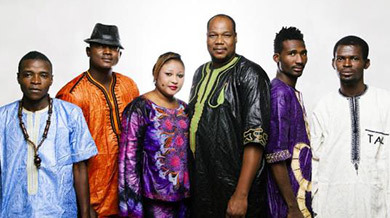 By the time Tal National reached international acclaim with 2013's Kaani, the band's first release outside of Niger, they had spent more than a decade crisscrossing their native country, usually on dirt pathways through the Sahara, playing epic five-hour sets, seven days a week, selling their CDs on street corners and roundabouts. In the process, they became Niger's most popular band, with songs constantly blasted on national TV and cell phones everywhere. Following the release of Kaani, Western audiences and critics quickly embraced the band's singular and finely-honed sound. NPR were hit by "the band's tightness and fiery energy"; The Guardian praised their "full-tilt approach, and hypnotic intensity"; while Songlines wrote of "a rich, hybrid sound that draws on familiar West African elements to create something rewardingly fresh and different." Their dazzling follow-up album, Zoy Zoy, was released in 2015.
Niger borders Nigeria, Mali and Ghana. Collected within this former French colony can be found Songhai, Fulani, Hausa, and Tuareg populations, all of whom are represented in the membership of Tal National. As such, the nation enjoys a greatly varied mix of cultures and ethnicities, all richly steeped in music. It is no stranger to highlife, kora and afrobeat musics, while giving the world Tuareg Blues and a unique brand of hip-hop. In Tal National's music can be heard the rolling 12/8 rhythms in the Hausa's fuji percussion, the pensive aridity of the Tuareg's assouf and the exquisite griot guitar of Mali's Songhai, all delivered with virtuoso precision and unrelenting energy.
After listing Kaani in its top 10 albums of 2013, the New York Times wrote that "the music keeps leaping ahead with one surprise after another: guitar parts that align and diverge and reconfigure, drumming that pounces on offbeats. The patterns are crisp, complex and tireless."
The Cooperage is a full service restaurant/nightclub specializing in steak & seafood, with a large salad bar, good desserts and a full bar. 
---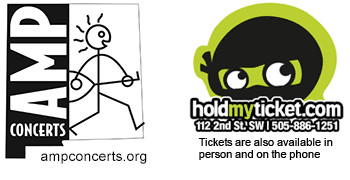 loading tweets
Coming Up