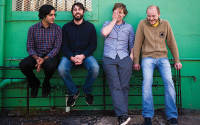 Meow Wolf and AMP Present
Explosions In The Sky
Future Scars
Time: 7:30pm Day: Thursday Doors: 6:30pm Ages: All Ages
This Event Has Ended
Tickets are $22 in advance, $27 day of show (including all service charges). They are also available through Hold My Ticket (112 2nd St SW), 505-886-1251, Monday to Friday 9 AM - 6 PM, Sat & Sun 11 AM - 6 PM.
NEW VENUE for this show: The Bridge at Santa Fe Brewing.
All ages. Beer with ID. Outdoor show, rain or shine. NO REFUNDS. Standing room only.
Meow Wolf will bring in their production team to give the show a bit of their unique look and feel, and all Explosions In The Sky ticket holders are eligible for 50% off one entry to Meow Wolf's House of Eternal Return on August 25 when showing their ticket at the front desk. Meow Wolf is open from 10 AM - 8 PM on Thursday, August 25.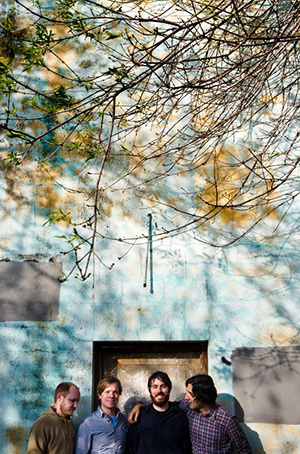 In February 1999, three longtime friends from West Texas went to a pizza place in Austin, Texas, for a prearranged meeting with a young man from Illinois. The Illinoisan had just moved to Austin, and he had put up a flyer that caught the interest of the others. (The flyer said "Wanted: Sad triumphant rock band.") They ate pizza and discussed movies and arcana. They also decided to meet the next day with their various instruments (two guitars, bass, and drums). This happened, and over the coming months they picked a band name, then picked a better band name, then wrote and recorded an album. That album, called How Strange, Innocence, was largely out of tune, but the band members didn't really notice at the time. They optimistically printed 300 copies, and gave most of them away.
It turned out they really liked playing together, so they kept doing so. A friend of theirs sent a recording of one of their live shows to a record label in Baltimore, and that label offered to put out albums for the band. The band agreed. A year later they put out a second album (Those Who Tell the Truth Shall Die, Those Who Tell the Truth Shall Live Forever). They began to tour often, all over the world, and Explosions in the Sky [web site | Amazon.com] began to garner popularity beyond the post-rock scene for their elaborately developed guitar work, narratively styled instrumentals, and their enthusiastic and emotional live shows. In 2003 another album came (The Earth Is Not a Cold Dead Place), and in 2007 they put out All of a Sudden I Miss Everyone. Their fifth album, Take Care, Take Care, Take Care, was released in 2011. Their music has been prominently featured in movies and TV shows, including the film and TV series "Friday Night Lights."
Their sixth album, 2016's The Wilderness, has been called "a quietly masterful, emotionally rich work" (Pitchfork.com), while PopMatters.com raved, "Explosions in the Sky have remained steadfast in their excellence... this record captures seasoned musicians finding bountiful new land to explore."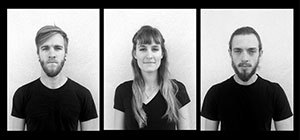 A trepid journey through a serene expanse, a moment of quietude amidst a current of melody... Future Scars embodies the coexistence of the calm and calamity of waking life. Founded in 2015 by members of As In We, Future Scars boasts a lineup of dedicated musicians seasoned with nearly a decade of cooperative experience. Emotionally rooted in the contemplative, melodic atmosphere of post-rock, Future Scars expands beyond a singular genre's expectations, often times overflowing into the domain of sheer intensity and fervor. The group couples these drastically varied, yet complementary components with the recurrent flurries of heart-wrenching vocals, creating an aura of earnest exhilaration and beauty. Laced with technicality and the prowess of control, Future Scars construct a sound balanced in adversity, soothing and cathartic yet all the while anxious with anticipation.
---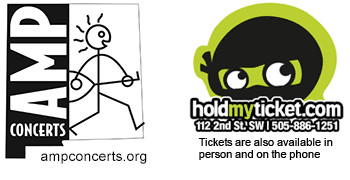 loading tweets
Coming Up