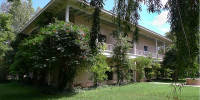 Los Luceros Fall Harvest Festival
Time: 10:00am Day: Saturday Ages: All Ages
This Event Has Ended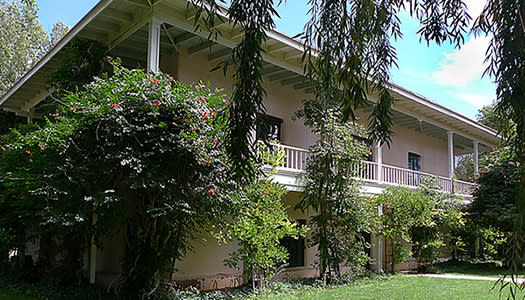 We had such a good time at Los Luceros last year! We are excited to again be working with New Mexico Historic Sites and New Mexico Acequia Association on this beautiful fall program.
The grounds will be open from 10-5 PM.
DAY SCHEDULE:
11 AM – Cipriano Vigil y La Familia Vigil
Noon – Blessing of the Orchards
12:15 – Pimento Brothers
1:30 PM – Sol Fire
3 PM - Moving Arts Española presents Flamenco, Hip Hop & Folklorico
The day's activities will also include:
Farmer's Market 
Self-guided Tours of the Property
Food Vendors
Beer and Wine Vendors (starting at noon)
Arts and Crafts Vendors
Apple Picking
There is also river access, so feel free to bring a fishing pole (and license) and kick back by the river.
In addition to the activities on the schedule, we'd like to encourage people to bring musical instruments too. It's a big property. There are cool patios and orchards. Lots of fun places to sit around and jam. Share the musical love! 
Visitors are encouraged to bring folding chairs and come prepared for weather (sun or rain!).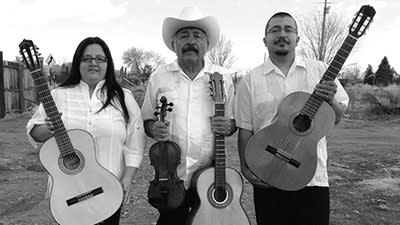 Hailing from the norteño village of El Rito, famed ethnomusicologist Cipriano Vigil and his family mix it up with a blend of old and new that always stays true to the spirit of New Mexico.
Along with traditional Spanish colonial folk songs and entriegas that mark such rites of passage as baptism, marriage, and death, Cipriano and his son, Cipriano Pablo Vigil, and daughter, Felicita Vigil Piñón, play original compositions that put the norteño stamp on Nueva Canción, a Latin American musical genre birthed in the 1960s to speak folk with a political accent. Recently, Cipriano's grandchildren have started joining him onstage as well.
With guitar, fiddle, and words, Cipriano Vigil y La Familia Vigil tell the story of northern New Mexicans' struggles for justice and cultural preservation.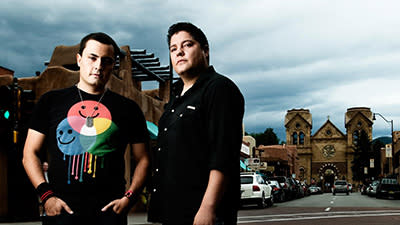 Sol Fire is a rock group formed in Santa Fe, New Mexico. They are known for their unique sound that merges rock with pop, R&B and Latin influences. The band is led by guitarist/vocalist/songwriter Amado Abeyta and his brother guitarist/vocalist/songwriter Buddy Abeyta.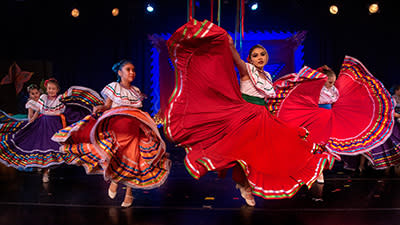 CNN's Community Hero Roger Montoya and co-founder Sal Ruiz of Moving Arts Española will direct their student performances in Flamenco, Hip Hop and Folklorico.
Moving Arts Española (MAE) provides high quality, affordable performing and visual arts education and free nutritional and academic support for children and youth ages 3-18. Their programs promote the creative, physical, academic, social and emotional health and well being of children and youth from the Española Valley and the surrounding communities of Northern New Mexico. All children and youth deserve to have access to a superior arts education and the nutritional and academic support that they need in order to succeed and thrive. 
About Los Luceros Historic Property:
In a state blessed with numerous cultural gems, the 148-acre Los Luceros ranch located north of Española along the Rio Grande near the village of Alcalde is special.  The cultural site is surely one of New Mexico's most scenic and historically significant properties. 
The centerpiece of the historic Los Luceros ranch complex is a 5,700 square-foot, 18th century Territorial-style adobe home which was renovated by the Cabot Foundation in 2004 and is listed on the National Register of Historic Places.  The property also includes a visitors' center, director's residence and a small gallery. In addition to the hacienda and the visitors' center complex, the property contains three residences, an 18th century chapel, the original village jail, numerous farm buildings, apple orchards, irrigated pasture and bosque on the Rio Grande.
The New Mexico Department of Cultural Affairs, which purchased the Los Luceros property from the family of Frank and Ann Cabot in 2008, is the state's cultural steward and is working to ensure the site's preservation and integrity in perpetuity. The department's intent is to bring together historic preservation, filmmaking education and training, agricultural and environmental interests. Los Luceros is currently—and will continue to be—used as a cultural destination with interpretative exhibits and public access; as a retreat center for workshops and seminars related to New Mexico's film industry; and for crop-growing and environmental studies programs.


---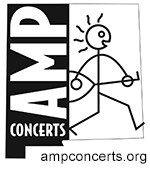 loading tweets
Coming Up