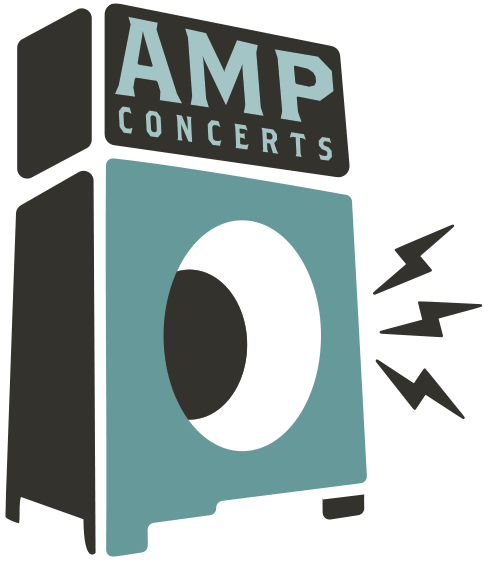 Search
AMP Concerts offers innovative and inspiring arts programming throughout New Mexico. A portion of all AMP ticket sales goes to fund free community concerts, workshops, school programs & artist residencies.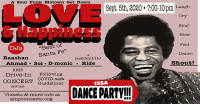 AMP Concerts Drive-In Concerts and Tailgate
Raashan Ahmad's Love and Happiness Dance Party
(A Soul, Funk, Motown, GET DOWN!)
Featuring Santa Fe Reporter's "Best Of" DJs Raashan Ahmad, Dynamite Sol, D'Monic, Ride, and more
Time: 7:00pm Day: Saturday Doors: 4:00pm Ages: All Ages
This Event Has Ended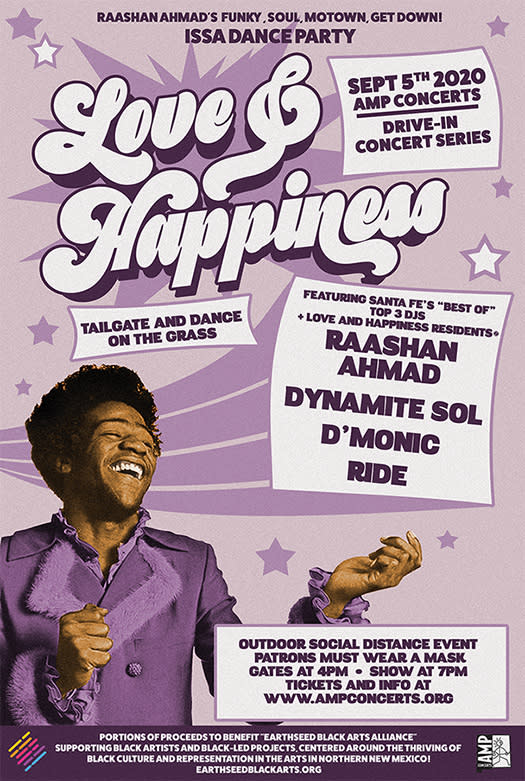 Tickets are sold per car. Up to 6 per car with a legal seat/seatbelt for each person. Carloads are $49, $66, $88 and $110 (including all service charges). Tickets also available by phone through Hold My Ticket at 505-886-1251.
Stream the show live on Facebook and YouTube!
ADVANCE SALES ONLY. NO TICKET SALES AT THE GATE.
YOU MUST SELECT YOUR ARRIVAL TIME WHEN BUYING YOUR TICKET. ARRIVAL TIMES ARE LIMITED TO ASSURE EASE OF ACCESS.
4:30-5:30 EARLY BIRD: Set up your spot and enjoy your evening on the grass
5:30-6:30 
6:30-6:50 LATE ARRIVAL: MUST arrive no later than 6:50 to be parked by showtime at 7:00. LATE ARRIVALS WILL NOT BE PERMITTED.
We allow sedans, mini-vans, trucks, SUVs. NO buses or large vans.
Each space is 27' wide by 18' deep and offer patrons a personal 9' x 18' tailgate/picnic zone beside their parked vehicle maintaining safe distancing for all with 18' between cars.
Please be aware that the greatest risk of potential exposure will be during the time you and your group are in the enclosed space of your vehicle. Do not overcrowd. Share your vehicles cautiously and selectively. 
There will be two large HD video screens, one on stage and one behind Row 5. A full concert PA with delay towers will ensure quality sound throughout the venue. It is our goal to give patrons the best concert experience we can under the current circumstances. 
FOOD VENDORS on site for text message Booth Delivery will be JAMBO and Tacos Gracias Madre!!
EVENT RESTRICTIONS:
A cloth face covering must be worn by all patrons except when eating or drinking as per New Mexico law. 
This is an ALCOHOL FREE event. Alcohol is not permitted and will not be available for sale.
Coolers/picnics/tailgates are welcome, but ABSOLUTELY NO GRILLS or any other kind of flammables. Food vendors will also be available for contactless ordering.
Lawn Chairs and pop up tents are welcome. Pop-up tents will need to be struck before showtime to be conscious of other people's sight lines. Don't be that guy. 

No one drunk or intoxicated will be allowed admission to the event. 
LOVE & HAPPINESS
Love & Happiness is one of Santa Fe's most beloved community dance parties. Soul, Funk, and Motown originals and modern remixes for you to get your dance on and visuals consisting of Soul Train lines and concert footage of the greats who performed the songs. This edition will feature the top 3 DJs voted "Best of" in 2020. The vibes will be high! Looking forward to seeing you!
RAASHAN AHMAD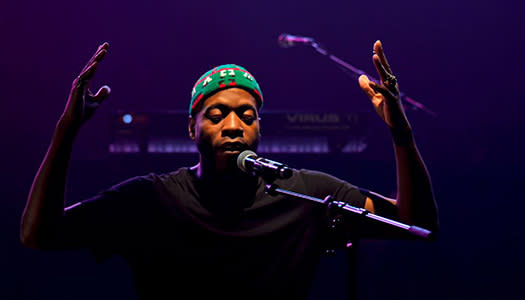 Raashan Ahmad is an emcee, producer, DJ and label owner with a thriving career as a Hip Hop artist. He has garnered national & international critical acclaim from worldwide press such as XXL, Giles Peterson's World Wide Awards, France 24, Urb, and Rolling Stone.
​​​​​​​Raashan's solo albums The Push, For What You've Lost, and Ceremony, as well as with his albums with his crew Crown City Rockers, have garnered worldwide attention and earned him the admiration of fans. He has toured both solo and with various bands and orchestras throughout North and South America, Europe, Japan, & Australia (over 35 countries, covering six continents).
EARTHSEED
We will also be accepting donations for Earthseed, a Black Arts Alliance founded by Raashan Ahmad, Nikesha Breeze and Tigre Bailando, with the focus of supporting black art and artists in Northern New Mexico. Your contribution will fund projects, exhibitions, residencies, research, community events, and more. Supporting a vast network of Black artists and Black-led projects, centered around the thriving of Black culture and representation in the Arts!
AMP Drive-In Concerts are made possible with the generous support of Falling Colors Foundation. 


---