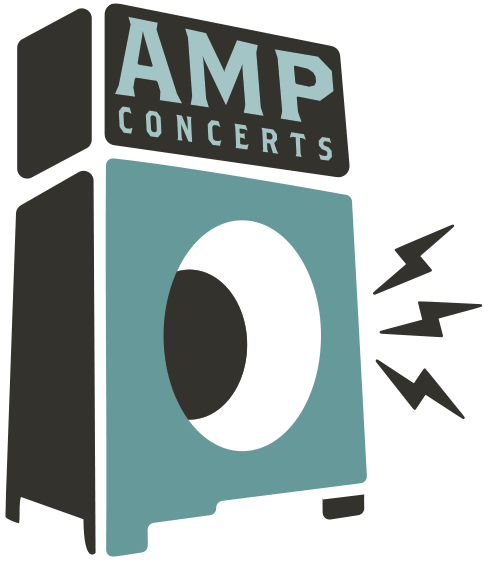 AMP Concerts offers innovative and inspiring arts programming throughout New Mexico. A portion of all AMP ticket sales goes to fund free community concerts, workshops, school programs & artist residencies.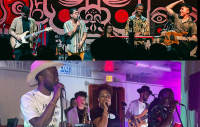 4th of July Melting Pot Celebration!
The Mango Cakes | Otro K Libre Band
Albuquerque Summer Scene
Time: 5:00pm Day: Sunday Doors: 4:30pm Ages: All Ages
This Event Has Ended
AMP would like to invite you to join us for a fun, funky 4th of July Celebration.  What better way to celebrate our national birthday than with a big dance party that embraces the beauty and diversity of the United States?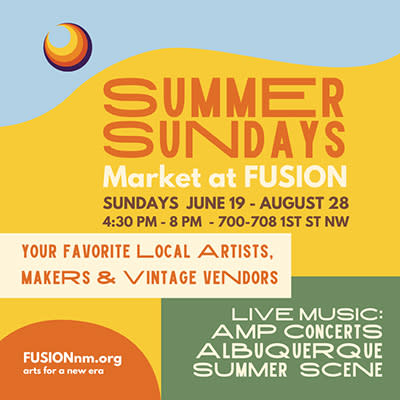 AMP is excited to collaborate with FUSION in launching an exciting new downtown outdoor performance space on the FUSION arts campus! Albuquerque Summer Scene will take over this space every Sunday from June 19 to August 28.  Join us for an outdoor market featuring your favorite local artists, makers, and vintage vendors! Food trucks and Tractor Brewing Company have you covered for dinner and drinks, with live music starting at 5 PM. Each evening will feature two music groups and promises to be a big party! Come ready to dance, and feel free to bring lawn chairs if you want to relax too. Many weekends will feature morning or afternoon theater, dance and music programs, so check each event to see what's in the works!
Free! Make a reservation to get event updates and additional details.
We'll be doing this weeks' event inside.
We'll be in FUSION's cool 708 gallery space, where you can enjoy our two bands, beer and crafts surrounded by the art from the newly opened Two Moons Art: Fabrics of New Mexico exhibit, as well as information on immigrant support groups.
This week's vendors:
- Tractor Brewing
- Hummus King & Lady Falafel
- El Bukanax
- High Desert Debris
- The Soap Mama
- Itzayana Jewelry
- New Mexico Immigrant Law Center
- Santa Fe Dreamers Project
- United Voices for Newcomer Rights
Catch an early morning performance of the new play "Edmund and the Astronaut," featuring Ross Kelly, a Robot and a very elaborate set! Seating is extremely limited. (Tickets required.)
SPONSORS!
Rick & Gail Thaler, M'Tucci's and the City of Albuquerque Arts and Culture Department.  If you are an individual or local business eager to support a new art scene downtown, let us know!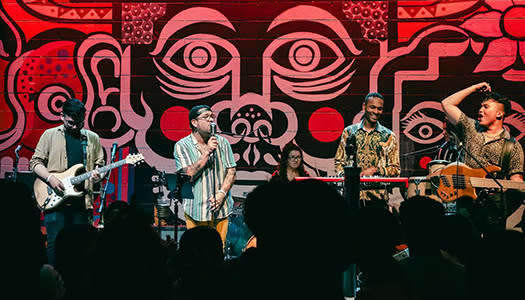 The Mango Cakes is a 9-piece soul, funk, rock, and R&B group composed of a diverse cast of members from the Albuquerque metro area. With skilled and energetic musicality, they seek to create musical spaces of joy and spontaneity. They run by the motto, "Live Music for Everyone".
"[For me, being an immigrant] has meant starting with nothing and creating something out of that. It has meant observing and experiencing the lives of others who are not like me and finding the beauty of our uniqueness and the joy of what brings us together. Mangoes are one of the biggest exports from my island in the Philippines and so our name is influenced by my life there. Being an immigrant is trying to keep what you have and what you know from a very different place into a place that is often very much attuned to making you forget who you are. That experience comes out in our music." - Jabez, The Mango Cakes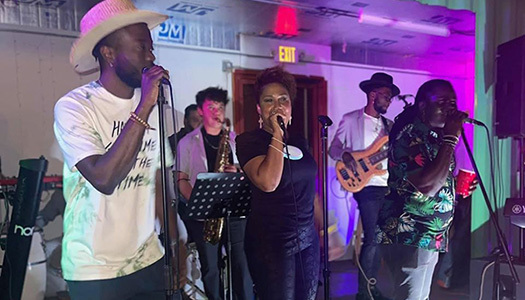 Otro K Libre is an 8-piece band featuring artists from the Dominican Republic, Cuba and Puerto Rico.  It's a high energy group that plays salsa, bachata, cumbia  merengue, bolero, chacha and timba.  Basically, if the music has roots in the Caribbean, they are on it!  And since bachata and meringue come from the Dominican Republic, you know it is in their blood.  The band love to dance and make you dance.  Practice your moves, as dance challenges are a big part of every Otro K Libre show!
Joining our usual mix of food and craft vendors will be some groups doing important work with our new residents.
The New Mexico Immigrant Law Center
's mission is to advance justice and equity by empowering low-income immigrant communities through collaborative legal services, advocacy, and education. NMILC envisions a vibrant New Mexico where all people—regardless of immigration status—can achieve their full potential and are treated with dignity and respect.
NMILC provides free legal services for all forms of humanitarian immigration relief. We do this in the following ways:
Direct services: through innovative workshop and group-processing models, a robust pro bono attorney network, and a legal team committed to holistic services, we are able to offer high-quality services efficiently—always for free.
Leadership programs: through mentorship and professional development opportunities, we are fostering the next generation of social justice legal professionals.
Policy, education, and advocacy: partnering with organizations throughout the community to spread information about legal issues and to provide policy guidance.
United Voices for Newcomer Rights cultivates educational, economic, cultural, social, and physical and mental health resources in partnership with newcomers (refugees, immigrants, asylum-seekers, and others who are new to the United States) to empower them to achieve system change that supports their well-being and integration in their new communities.
---