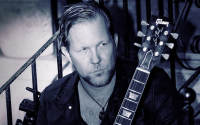 Devon Allman Band
Time: 7:00pm Day: Sunday Doors: 6:00pm Ages: All Ages Price: FREE
This Event Has Ended
Register for the event and we'll also send you updates if there are any schedule changes as well as info on future free Railyard programs and events around Santa Fe and Albuquerque.
Join your Santa Fe neighbors on the Railyard Plaza beside the landmark Water Tower for great FREE concerts all summer long.
Feel free to bring chairs to the concert.
Food and drink are available inside Second Street Brewery and Violet Crown Cinema.
Come down early to get a spot on the Second Street Brewery patio to enjoy a a cold beer with the music!
Violet Crown has patio drink & dining options too.
Ample parking is available in the underground garage just north of REI.
Download a map (JPG) showing all of the Railyard parking and transportation options.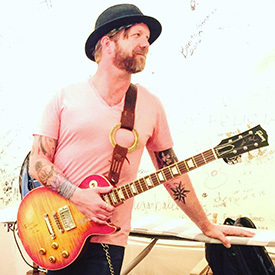 The dirty blond hair is the same, the body posture is also the same, and there are touches in the voice that have a similar genetic connection, but Devon Allman [web site | Amazon.com] has toiled long and hard to establish his own musical identity, separate from his legendary dad, Gregg Allman.  In fact, Allman, who was raised by his mom (Shelley, not Cher) in Texas, took up the guitar on his own, and did not meet his father until he was 16 years old. "I was 16, and I sent him a really short letter saying, 'Hey, it's me. Here's where I'm at. I'm playing guitar.' I got a phone call three days later," says Devon. Soon after that phone call, the two met in the parking lot at The Fox Theater in St. Louis during a tour stop for the elder Allman. Growing up with his mom, Devon was listening to anything on the radio he could find. Often it was the Rolling Stones or Jimi Hendrix. "I can remember listening to music at the age of four or five. Something would come on the radio and I would always ask my mom who it was. She would say 'That's John Lennon' or 'that's Styx.' One time 'Midnight Rider' came on, and I asked her 'Mom who's that?' and she said 'That's your dad.'"
This young Allman did not come on the music scene riding the coattails of a famous parent. Allman has been living his own musical life for decades. After playing in local bands and working in Guitar Center in St. Louis, Allman formed Honeytribe in 1999. One part blues, one part rock, and one part jam, Honeytribe was named the 1999 Jam Band of the Year in St. Louis.  Devon and Honeytribe toured for two years then took a break for a few years allowing Devon to actively parent his son to later reform in 2005. At the same time, he toured in Europe with Javier Vargas, a Spanish blues rocker. Devon and Honeytribe continued to tour in support of his 2010 release Space Age Blues.
Then, in 2011, his musical fate changed. Royal Southern Brotherhood was formed during JazzFest in New Orleans. This unique quintet combines the vocal and musical talents of Devon, Mike Zito, and the legendary Cyril Neville with the veteran rhythm section of Charlie Wooton and Yonrico Scott. Their debut self-titled release in 2012 caught fire the moment it hit the streets, simultaneously catapulting them as major new attraction on the music scene. Their mixed sounds of funk, blues, rock and jazz proved to be a force to be reckoned with. RSB toured non-stop, performing all over the world. As Devon quips, "wherever there is electricity and potato chips." Their second studio release, heartsoulblood, was released in June 2014 to another round of rave reviews. 
After touring the world as a fiery guitarist and soulful vocalist in Royal Southern Brotherhood, Devon is still committed to performing dates with his own band, with a renewed intensity.  His own 2013 Ruf Records debut, Turquoise, came a few months after the RSB's debut, giving him a slew of accolades. USA Today called it "...well-crafted, more reflective than fiery, and soulful." and Relix proclaimed him as "an elegant, soulful singer." Guitar World called 2014's Ragged and Dirty "a solid showcase of his talents—from powerful, soulful vocals to dig-in-and-let-fly guitar work."
One can never leave a name as famous as "Allman" very far behind. There are traces of his father in his soulful voice and his uncle Duane in his innovative guitar playing. According to Devon, the name both helps and hurts. There will always be fans that come to see him out of curiosity, "But they leave having a respect for the fact that I am my own entity.
"I can handle echoes. People say they hear echoes of my dad's soul in my voice, but that I have a definitive sound. My dad says I remind him of Duane, although I've never played slide in my life.  Whether that seeking is for truth, love, inclusion, acceptance, or peace, we all have a soul that's longing for something. Longing colors our arts in a myriad of shades. The main thing is now that I really trust my vision for songs. I go with my gut instantly. The focus now is to always get to the essence of the song and the story it's trying to convey in the simplest way possible."

---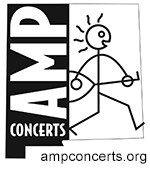 loading tweets
Coming Up