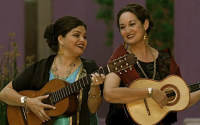 Carol & Leila - Las Flores del Valle
Time: 6:00pm Day: Monday Doors: 5:00pm Ages: All Ages
This Event Has Ended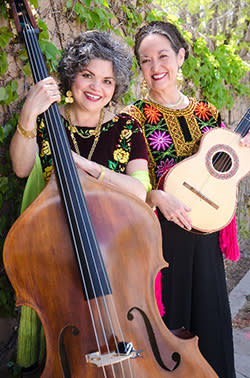 Leila Flores-Dueñas & Carol Vigil of Las Flores del Valle (The Flowers of the Valley) have been making music together for more than 10 years at venues that range from the Gene Autry Theatre in L.A. and the National Hispanic Cultural Center to public school classrooms. Whether they are singing for huge audiences or private guests, they are sure to deliver smooth harmonies and thoughtful tunes with passion and heartfelt joy. 
Carol and Leila's interests include researching and performing songs that have formed part of our rich cultural heritage in the US/Mexican Borderlands. Through various genres of music, they address social topics such as equal rights, social justice, women's history and simple hope for all age levels and across all cultures.
"Leila Flores-Dueñas and Carol Vigil seem to magically appear, two dark-haired beauties in bright silk shawls holding exotic looking guitars, smiling and bursting into joyous dynamic song, in Spanish, English, or both, transforming wherever they play into a celebration of life... Like mystical curanderas, Las Flores del Valle weave an aura of sound, conjuring images of darkness and light, struggle, triumph, survival, love and drama. Embracing personal strength and courage with a sublime blend of harmonies, their songs transcend borders and open the heart to the hope of the possibilities of cross cultural understanding." (ABQArts)
David Garcia will be joining Carol & Leila on accordion, violin, requinto, vocals and other instruments.  (He's a man of many talents!)
This is the latest in a monthly series of free events in collaboration with the Friends for the Public Library.


---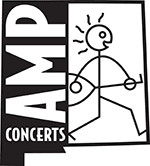 loading tweets
Coming Up