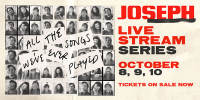 Joseph
3-Night Livestream Series: All the Songs We've Ever Played
Time: 12:00am Day: Friday Ages: All Ages
This Event Has Ended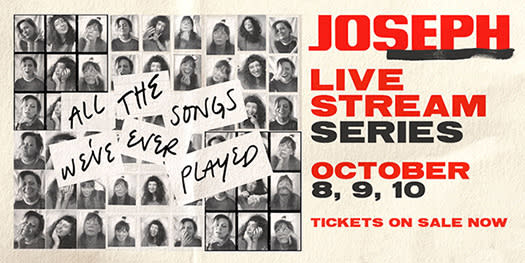 Tickets cost $15 per show (plus applicable service charges). Merch & ticket bundles are also available.
A different album will be played on each night:
10/8: Native Dreamer Kin
10/9: I'm Alone, No You're Not
10/10: Good Luck, Kid
48-hour rebroadcast is included with each show.
Hi friends, how are you? 
Whatever your answer is in this moment, we are here to offer you some music—hopefully as some kind of companion in it. Since we couldn't come be with you in person, we recorded three separate shows, one for each album we've released! We're calling it ALL THE SONGS WE'VE EVER PLAYED. So for all you Native Dreamer Kin fans who wish we'd play "Gold" and for all of you who have requested "Tally Marks" or wish we still closed the set out with "Sweet Dreams," this is for you. We also have a few extra treats in there—a couple of songs we never released and some covers. We're so very pleased to share these shows with you and we'll be watching along and chatting with you when they air!
XO, JO
P.S. We've got merch like an in-person tour! Just imagine it's at a table in the back of the room and you just bought your drink and you're chatting with Brettley between sets.

loading tweets
Coming Up