Lone Piñon
Virtual Third Thursday at the Albuquerque Museum
Time: 7:00pm Day: Thursday Ages: All Ages
This Event Has Ended
Check out our other videos at AMP Concerts Facebook Page and YouTube channel.
Please subscribe to us on YouTube too!

AMP is happy to be collaborating with the Albuquerque Museum to help virtualize their popular Third Thursday Events. Each month, the museum has a mix of talks, activities and live music in tandem with their current and ongoing exhibits. We'll be taking care of the music part, but each evening consists of multiple programs.
Schedule:
6:00 PM - Albuquerque Poet Laureate Mary Oishi
6:30 PM - YogaZo
7:00 PM - Lone Piñon
Lone Piñon is a New Mexican string band, or "orquesta típica," whose music celebrates the integrity of their region's cultural roots. With fiddles, upright bass, accordions, mandolin, guitars, and bilingual vocals, they play a wide spectrum of the traditional music that is at home in New Mexico.  This event was filmed at Casa San Ysidro: The Gutiérrez-Minge House, a historic home and property in Corrales managed by the Albuquerque Museum.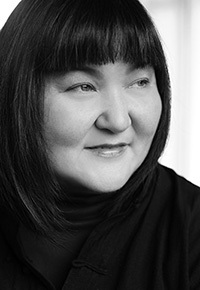 Mary Oishi is a familiar figure in Albuquerque's thriving poetry scene: performing, publishing, and producing poetry events. Oishi is the author of Spirit Birds They Told Me (West End Press, 2011), and co-author of Rock Paper Scissors (Swimming with Elephants Publications, 2018), finalist for the New Mexico Arizona Book Award. She is one of twelve U.S. poets in translation in 12 Poetas: Antologia De Nuevos Poetas Estadounidenses (La Herrata Feliz and MarEsCierto, 2017), a project of the Mexican Ministry of Culture. Her poems have appeared in Mas Tequila Review, Malpais Review, Harwood Anthology, and numerous other print and digital publications.
Oishi worked professionally and as an on-air personality in public radio for 25 years, hosting blues shows at four radio stations in New Mexico and Colorado, currently at KSFR-FM Santa Fe, where she hosts a weekly blues show, Wang Dang Doodle.
Her involvement in the work of community and social justice is life-long. She served as lead facilitator for an LGBTQ youth group for seventeen years, was an NGO delegate to the UN World Conference Against Racism in 2001, and produced Peace Buzz, an event of art-as-protest in 2003.
She brings a different perspective to her new role as she is the first retired person to hold the position. Oishi plans to spend her two years working with Albuquerque Public Libraries. She sees it as an investment in the community and believes that her writing is a healing process, which also serves as a conduit in building community.

Join a YogaZo instructor for a free, live stream yoga flow. Grab your mat and a water bottle, then go to YouTube for a 60 minute yoga flow built with you in mind.
---

loading tweets
Coming Up